Do These 5 Things Before You Hire a Property Management Company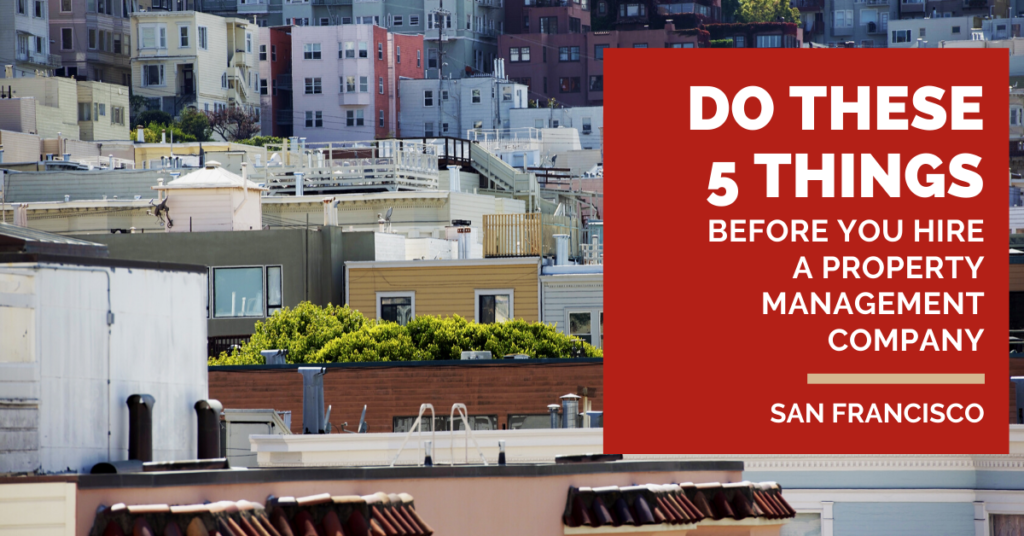 As a property investor in the San Francisco Bay area, you have a lot of excellent opportunities to invest in rental properties and commercial properties. Any one of these properties could make you a decent profit, but it will still take you a lot of sweat and effort. If you feel that handling all of your properties every month is just too much for one person, you could bring on a business partner to manage some of the properties or tasks for you in exchange for revenue share—or you could hire a property manager.
Property managers typically work out of real estate agency offices. There are some private managers that freelance or opt to work for just one property owner or property asset-holding company. Regardless of the type of property manager you eventually hire, you should do the following five things before you make a solid hiring decision. Doing so will help you avoid major issues in business later.
Spoiler Alert: Leading San Francisco Property Management can help with all of these things.
1. Decide Which Properties and Which Business Tasks You Want the Manager to Handle
Property management deals with two sides of the same business coin. The first side is all business; writing leases, advertising, and promotions, interviewing potential tenants or talking to buyers, etc… The second side of the coin is property upkeep and securing more properties to buy. You have to decide ahead of time what duties and responsibilities you want the manager to handle for you.
Your property management goals may include both sides of the coin. Perhaps your manager maintains the properties you have while also renting properties and collecting rent. If that's the case, you have to be ready to ask your manager candidates if they are able to do multiple tasks and manage different but related responsibilities.
2. Decide How the Salary of a San Francisco Property Manager Fits Into Your Budget
Property managers are one of those things that don't come cheap, and definitely not in the Bay area. A great property manager is for someone who values their time over the effort and expenses of doing it all yourself. You want someone who is going to get it right the first time without you having to constantly micro-manage. Before you start shopping for a manager of your properties, narrow down to how much of a fee you can afford. Keep in mind that you want enough wiggle room left to continue buying properties while your manager handles others; and the compensation should be enough where everyone feels they have skin in the game to give your properties the attention and care they deserve.
3. Assemble a Portfolio of the Properties You Want Managed and/or a List of Duties/Tasks
Since this will absolutely come up in questioning in the interview process or the training process shortly thereafter, be prepared with a portfolio of the properties you want managed or a list of duties and tasks you want the manager to handle. The best property management companies will already have this list written and available for you to examine. Your list should include some basic information and photos of the properties to be managed, and/or the descriptions of the expected tasks, sort of a job description roster. Your property manager can make sure it is all typed up and professional-looking so that everyone is clear on responsibilities.
4. Conduct the Interviews of Your Chosen Candidates
Set aside at least an hour and a half for the initial interview with your property manager. There are a lot of questions you will need to ask, including:
How long have you been managing properties in San Francisco?
Have you managed properties anywhere else in this state or other states?
What are your credentials and may I see them?
Are you currently managing several properties, a few or none at the moment?
Will I be under a contractual obligation to retain your services for a set number of months or years if I hire you?
How do you go about marketing rental properties?
Can you list some of the major housing laws that cause problems between tenant and landlord and how would you resolve those issues?
There are many other really good questions to ask in an interview, including showing your property photos and asking how best to maintain those properties and having the candidates read the list of duties/tasks, and asking if they object to any of the duties/tasks. It's important to figure out if your candidates are problem solvers or yes-men. You want problem-solvers and not just people who will tell you that they can and will do the job but then don't.
At Leading San Francisco Property Management, we are problem-solvers.
5. Do Background Checks and Reference Checks
These properties are your source of income. Don't just trust them to any individual or property management company. The last thing you want is a lack of care and attention to your properties or your business because it means a loss of money to you. Ask for references, and make sure your property manager has a screening process for tenants, as well. You have a right to know who you hire, who will be in your properties, and who will do the job and do it right.
Really good and really solid managers know that this is par for the course in this industry. They know you are attempting to protect your investments and your assets, so they are willing to be subjected to a battery of investigative checks. Just be sure to conduct these checks on the most legal of approaches to protect you and your candidates from legal issues.
Check for Any Other Special Requirements Needed When Hiring Property Managers in the Bay Area
Different cities have different special requirements for hiring extra help to manage properties. Due diligence here means that you have checked for those special requirements and included them in your hiring process. Then you will get the best possible manager or managers for your properties. 
The California Tenant Rental Laws are shifting rapidly in a post-COVID-19 world, and you'll want to make sure you find a property manager who is up to speed with all new regulations and information coming in from each municipality.
You cannot operate worry-free if your property management company is not on top of all of these things with an ear out for all shifting news, rules, and requirements.
Finding a competent property management company in San Francisco can feel like a daunting task, but we've done our best to systematize our processes while providing an exceptional level of customer service to make sure all questions, data points, and key decisions are routed through you and your investors.
We'd love to work with you.
Get in touch with our San Francisco property management team, here.
Or call us now, (415) 346-8600