Tenant Maintenance and What a San Francisco Landlord Should Practice For Tenant Satisfaction
Tenant retention and maintenance go hand in hand, and landlords need to understand and respond to that connection in order to avoid vacancies and protect the condition of their investments.

When you rent out property, you're required to provide a safe and habitable home for the tenants who live there. If you want to be a good landlord who retains exceptional tenants and increases the value of your assets, you'll go several steps further than simply offering a habitable home. You'll provide a well-maintained home.

Give Tenants a Good Process
It's important that your tenants know how to get in touch with you when there's a maintenance issue or a repair that needs to be made. If you're working with a professional San Francisco property management company, you won't have to worry about being the point of contact. But, if you're managing the property on your own, you'll have to make sure you're available to your tenants 24 hours a day. If there's an emergency, they'll need to call you – even if it's the middle of the night or a holiday weekend. 

For emergencies, you need to expect tenants will call you right away. For general repairs, you may want to have your tenants put the request in writing. This will keep the process documented. You can have them email you or text you the problem. Then, you can respond in writing and follow up with them after the work is complete. Everything will be in recorded, and you can refer to those records if future maintenance needs arise.

Respond Promptly to Routine and Emergency Repairs
It's critical that you respond to emergencies right away. Tenants need heat in the winter and air conditioning in the summer. They need running water and electricity. If a tree crashes through the roof in the middle of the night, you need to take immediate action.

You should respond to routine maintenance requests with the same sense of urgency. If a tenant lets you know that a toilet isn't flushing but the home has two or three toilets, it might not seem like a request you need to handle right away. But, we think you should for two reasons:

First, it shows the tenants that you're responsive and you care about their needs.
Second, it protects the condition of your home. Small problems don't become easier or cheaper with time. Don't leave deferred maintenance for later. It's better for your investment to fix and replace things right away.
One of the main reasons that tenants leave their rental properties is because they don't feel like their maintenance needs are responded to in a timely manner. Don't lose your good tenants because you're too slow to respond to repairs.

Consider a Preventative Maintenance Plan
Preventative maintenance is the best way to keep your property in excellent condition and to increase its value. With a good preventative maintenance plan, you'll ensure the systems and functions of your investment live longer and work more effectively. Have your HVAC system inspected and serviced annually. Clean out the gutters at least once a year, and have your home inspected for plumbing leaks and electrical issues.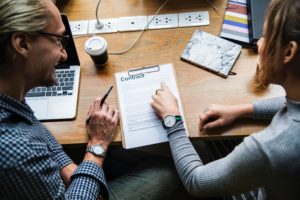 Remember that tenant retention or tenant satisfaction and your maintenance response are closely related. Be intentional, be accessible, and be the type of landlord that tenants love working with.
If you have any questions, we're glad to help. Please contact us at Leading Properties.